---
2019 General Assembly and Company trips
---
MDRK held a company general meeting and company trip from December 20 (Fri) to 22 (Sun), 2019. To commemorate the 5th anniversary of the company's establishment, MDRK organized a company trip to Bangkok, Thailand.
On Friday, December 20, DORAKU group CEO, Nishijima, came to Myanmar and held a company general meeting. All employees working in three offices in Yangon and those who are going to join the DORAKU Group next year have come together. First, our CEO Nishijima gave a lecture to all employees, and then team building training was conducted. Except for the facilitator, 24 participants were divided into three teams and played Japanese-based message games, mime games, marshmallow towers, helium rings, and other games. Through these games, all employees learned about the importance of leadership, teamwork, and advance planning.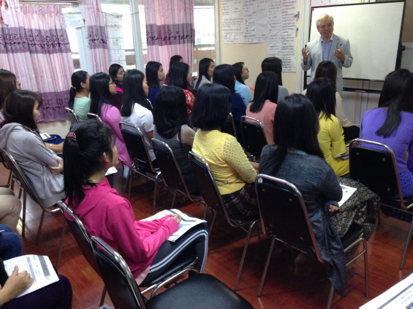 Lecture from Mr. Nishijima
On the early morning of the next day, Saturday, all people left Yangon Airport for Bangkok. Most of the employees were not only traveling abroad for the first time in their birth, but also flying an airplane, so the atmosphere was mixed with expectations and tension. After an hour fligth, we boarded a bus waiting at the airport in Bangkok and immediately headed to the Royal Palace, one of Bangkok's iconic sights. Unlike the Myanmar royal palace that remains in a local city as a archeological site, with the end of the monarchy due to the British colony in 1885, the Thai royal palace still maintains a constitutional monarchy system, is much more majestic, and the employees seem to have been fascinated by the buildings still being used as palaces of the royal family.
After lunch, we visited Wat Pho, one of the three major temples in Bangkok. This also boasted magnificence comparable to the Royal Palace. However, the gold sleeping Buddha, which is representative of this temple, is less than 50m long, is smaller than the Buddha of Chowtaj Pagoda in Yangon by more than 20m, and is surrounded by many thick pillars, feeling a cramped atmosphere. After leaving Wat Pho, we enjoyed shopping in the city center in the evening and had dinner before check-in the hotel.
The next morning, Sunday, we headed for a safari park on the outskirts of Bangkok. Upon arriving at the park, we entered the park on the same bus and glanced the real life of wild animals, such as feeding lions. In addition, there were various entertainment corners in the park, and we enjoyed elephant-nosed painting shows, dolphin shows, and orangutan shows. We enjoyed a two-day company trip and left Bangkok on an evening flight. It was a memorable company trip for all employees.