24th October 2019
MyanmarDRK Co.,Ltd(MDRK), a group company of Doraku Holdings Co.,Ltd (President Nishijima Tomihisa) located in Chiyodaku, Tokyo, has supported in the process of accepting Myanmar internship students for Japanese companies in cooperation with Center of International Cooperation for Computerization(CICC).
CICC has established strong mutual relationship with Myanmar IT related Universities and has been promoting the internship support programs in collaboration with Myanmar Top IT Universities.
Same as the last two years, internship training has been supported to 25 students of 5 companies from June to September of this year. All internship students received a job offer from the company. Due to the severe shortage of human resources in Japanese IT Companies, the needs of Myanmar IT human resources for Japanese Companies are increasing year by year.
MDRK will continue to support this Japanese Training Program to the end of March, 2020. We hope that the participants will be able to adapt the environment of living and working in Japan in a short period of time. With the aim of contribution to the development of Myanmar and Japan IT sector, MDRK will continue to provide this program in collaboration with CICC.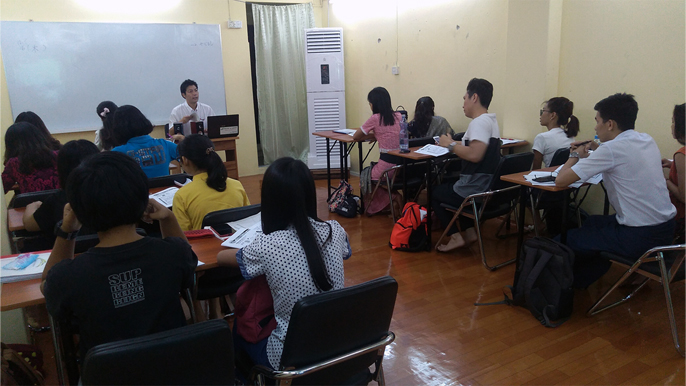 Students of Japanese Language Training
【Details of this service】

Center of International Collaboration for Computerization
URL : http://www.cicc.or.jp/
【Contact details for inquiries】

Doraku Holdings, Co., Ltd. Global Business Promotion:Shinohara/Yoshida
 TEL : 03-5577-5333
 URL : https://www.doraku-holdings.co.jp/
【Contact details for MyanmarDRK】

 MyanmarDRK Co.,Ltd. Managing Director:Atsuo Miyazaki
 TEL : +95 9 686757888
 URL : https://www.myanmardrk.com/
【Inquiries regarding coverage】

 Doraku Holdings, Co., Ltd. Public Relations office:Hotta/Miyazaki
 TEL : 03-5577-5333
 URL : https://www.doraku-holdings.co.jp/