15th July 2020
MyanmarDRK Co.,Ltd(MDRK), a group company of Doraku Holdings Co.,Ltd (President  Nishijima Tomihisa) located in Chiyodaku, Tokyo, would like like to inform the relocation of head office from June 15 for further business expansion and improving business efficiency.
With the expansion of the IT engineers' recruitment support service business, a training classroom was opened in the new building starting in September of the year before. MDRK also decided to move its head office to the same building for improving management efficiency.
From now on, MDRK will continue to promote human resource development who can play an active role in Myanmar and Japan, and also contribute to the development of the IT industry in both countries. 
Exterior of new office
(7th floor New Office,
8th floor Training Classroom)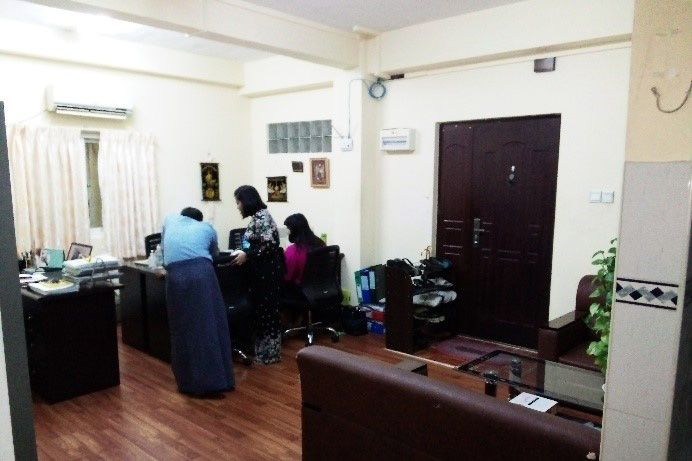 Management Room of new office
Location of new Office

Building18, No.7(D), Mya Yeik Condo, Zayar Thiri Street, 1st Quarter,
Kamaryut Township, Yangon, Myanmar.
TEL:+95 9 686757888
【Contact details for inquiries】

Doraku Holdings, Co., Ltd. Global Business Promotion:Shinohara/Yoshida
 TEL : 03-5577-5333
 URL : https://www.doraku-holdings.co.jp/
【Contact details for MyanmarDRK】

 MyanmarDRK Co.,Ltd. Managing Director:Atsuo Miyazaki
 TEL : +95 9 686757888
 URL : https://www.myanmardrk.com/
【Inquiries regarding coverage】

 Doraku Holdings, Co., Ltd. Public Relations office:Hotta/Miyazaki
 TEL : 03-5577-5333
 URL : https://www.doraku-holdings.co.jp/